Award Categories
The examination is marked out of 100 with a pass mark of 60.
Award categories are as follows: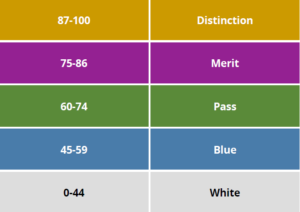 Certificates are awarded for candidates achieving pass/merit/distinction. Candidates achieving Blue or white will receive a marksheet only.
Please note the award structure for our Performance diplomas differs from our practical grades, and does not include a Merit category.
Marking Criteria
The marking criteria for the exams offered by MTB can be downloaded here: