We are pleased to announce that the new second generation MTB App is now available for download from the Google Play & Apple Store for phones or tablets running Android or IOS.
Our new app allows teachers and learners to complete the whole exam taking process with just their phone or tablet. The app provides exam instructions, the ability to record and listen to your exams and submit them to MTB when you are ready.  We hope this app will make it even easier and more convenient to take an MTB exam.
You can download the app on your phone or tablet using the below links or you can search MTB Record & Submit 2021 on the relevant app store:
About the MTB App
This app allows the candidate, parents, teacher or school to record and submit the music exam from their phone or tablet anywhere in the world with ease.  The exam can either be conducted with or without the teacher/centre present. If it is a performance exam or is a practical exam conducted without the teacher/centre present it will always be a video exam.
If the exam is being conducted by a teacher/centre then they must be have signed up as an 'Individual Music Teacher' or 'Organisation' on our website to conduct an exam with their students: Sign Up here. The exam format will either be audio or video depending on whether the centre is an audio or video exam centre. Exams can be overseen by teachers/centres in person or remotely over webcam.
An example of an audio exam conducted over webcam using our app can be seen below:
*A free practice exam to test using the app is now available on the make an entry section of the website under other. Please note this practice exam is for testing purposes only and no response or marksheet will be issued from your submission. If you have any questions on how to conduct an MTB exam with our app please contact us for assistance.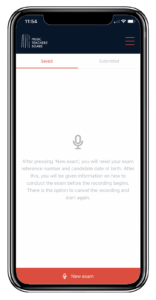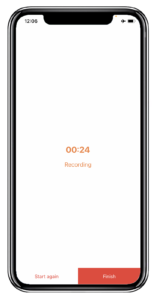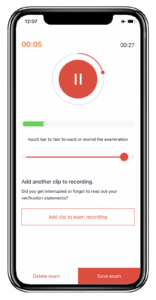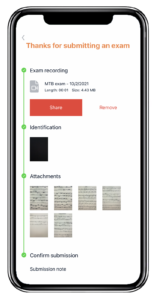 App Features:
Record: Using this app allows you to record either a video or audio exam on your phone or tablet.
Review: You can watch/listen to your recording and either delete it or save the exam for submission.
Scan: You can easily photograph the music used in your exam and a copy of your ID (for video exams only).
Submit: You can submit your exam recording and copies of your music directly to MTB for marking. You will receive the result & marksheet within 2 weeks by email and a certificate will follow in the post.
Save for later: You can save your exam for later submission. (To retake the exam you will need to delete this saved exam).
Guidance & help: The app includes useful information and guidance before you start the exam and has a range of information to help teachers with the exam process.
Recording safety features: You will be able to check your recording quality and that you have sufficient space available on your device. You will also be asked to turn on airplane mode for the duration of the exam recording to ensure your exam is not interrupted.
Share: You can share exam recordings after you complete the exam.